Direct Support Professional
Part Time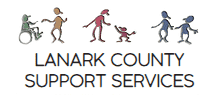 Lanark County Support Services is hiring a Direct Support Professional in the capacity of Support Worker to support individuals to access community supports and services. This position is for 27 hours per week in the Almonte agency between the hours of 9 to 6 pm, 3 days a week. These hours are directly funded by the individuals and are subject to change.
Education:
Must have a minimum of a Grade 12 education with experience working with individuals with developmental disabilities.
Operational Requirements:
Must be 18 years of age or older, have or be willing to train in First Aid, CPR, NCI, WHIMIS and other training specific to the individual.
Must have a Valid class G Driver's license, access to a vehicle, ability to work throughout Lanark County and a criminal reference check for the vulnerable sector.
Experience:
Experience supporting individuals with developmental disabilities and providing personal care is an asset. Experience in collaboration with support networks and working with families in the planning and delivery of supports.
Ability, Skill, Knowledge:
Demonstrated ability in planning and organizing a variety of activities to connect individuals to their communities that reflect individualized interests.
A positive and creative thinking approach.
Flexibility in both daily routine delivery and hours of work.
Ability to adapt to a variety of people, situations and environments.
Skills in various forms of technology and computer software.
Demonstrated ability to work as a team or independently and present an image of professionalism.
Strong written and verbal communication skills, problem solving skills and organizational skills.
Salary: Salary $20.00 per hour with 6% in lieu of benefits and opportunities to join the HOOPP pension plan. Employees also have access to a confidential Employee Assistance Program.
We believe that investing in our employees ongoing professional development has a direct impact on the quality of services that we provide. LCSS staff are provided with ongoing yearly training including: 1st Aid, CPR, Non- Violence Crisis Intervention and encourage and support employees to pursue any relevant training that will enable them to broaden and enhance their skills sets.
Qualified Applicants please submit resume to Tammy Brown, LCSS Supervisor [email protected]
Lanark County Support Services is an equal opportunity employer committed to building a diverse workforce reflective of Canadian Society.
COVID-19 considerations: LCSS employees are required to have completed 2 doses of the COVID-19 vaccine. Employees are required to follow protocols for sanitation and personal protection including mask wearing during working hours.
Work Location: In person
If you are interested in applying to this position select the Apply for Job button.
Print Job Listing